The story begins roughly 11 months ago - fitting because there are eleven parts to this story. It's June 2018, my dissertation deadline was in the rear view mirror and my uni course had come to an end. It was time to reflect on my three years on the BSc Games Tech course and think about which route down the game dev rabbit hole I wished to dive.
1. Portfolios in the Playground
Thoroughly enjoying the art and design modules during my degree, I knew that was the direction I wanted to take my career in. With my game design dissertation still in the back of my mind, I began to research what it would take to get into the industry at the junior level.
I read the same thing over and over again. The same narrative on every article, forum and website I visited. Portfolio. Portfolio. Portfolio. It is king.
I had a "portfolio" at the time with all my latest work which the course had encouraged us to maintain. A well-known studio had visited uni earlier in 2018 to do interviews, looking to bring on board a Junior Programmer. This was a brilliant opportunity to talk face-to-face with industry devs. Programming? Not for me. But I went in with a good attitude and explained how I could be of value as a Junior Designer instead.
"Kieran is friendly and personable and can talk about games, but I'm not really able to judge his ability as a game designer".
I learned two things that day- firstly my "portfolio" wasn't up to scratch. More importantly, you can't take feedback and critique personally. It was spot on.
My "portfolio" showed off my university work, but it wasn't a cohesive, targeted or professional-looking website of work to show I had what it took to contribute to a studio.
2. Destined to design?
With that portfolio feedback in mind, when uni was over I took a well-reviewed course on Udemy. It contained good advice about building a level design portfolio... but I never finished because I got busy getting on with it. That was a micro-lesson in itself. Tutorials are good but nothing like the learning experience of just getting on with it and failing along the way. I found it to be faster.

Pick your top 5 studios you'd like to work for and write down what kind of games they make. Then, tailor your portfolio to show off the same kind of work.
A free WordPress account with a blog post format wasn't cutting it. I upped my game in July, bought myself a domain and put the hours in designing a fancy website. Rule number 1: no fancy websites! (More on this topic later)
3. Oh, it's pronounced 'Environment Art'
By August 2018, I'd moved back home ready to add some fresh, post-grad work to my new website. We'd used Unity at uni but something about Unreal just came naturally to me. The good UI; the sculpting and foliage tools; the awesome lighting and atmospherics; the visual programming for animations and shaders. I was happy that I found myself finally clicking with a game engine and suddenly feeling very passionate about games again. However...
... my first level design was a failure.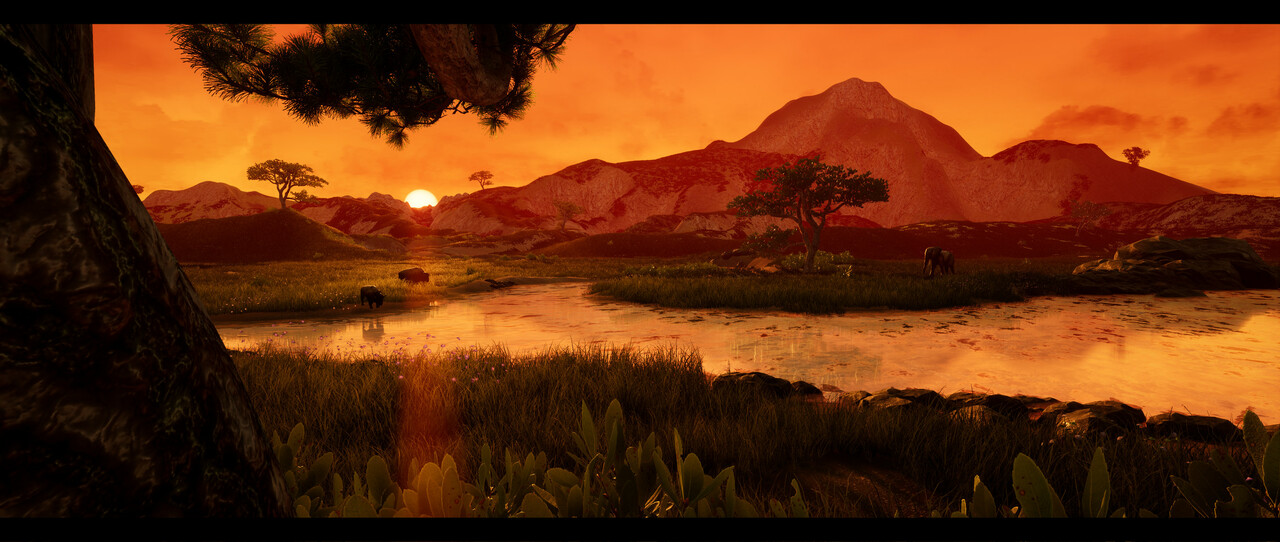 Level design is about blocking out a map, understanding gameplay flow and plotting events. It was a failure because I was just playing with the tools inside Unreal creating a fictitious scene from imagination. That something turned out to be my Savanna piece.
It dawned on me that I wasn't designing game levels- I was creating game environments. But I loved it, so I never looked back.
4. The Rabbit Hole of Environment Art
I never imagined myself wanting to become an artist. I'd always enjoyed photography and film and thrived in the creative modules at university.
By September, I'd added my first environment to my portfolio and I no longer saw myself as a budding designer. I dug deeper into what Environment Art involved. It was a rabbit hole of information, tutorials and new software that I still believe I'm digging my way through.
It was an enlightening few months as I discovered industry quality work, talked to industry figures and undertook the industry pipeline
Learning where to learn was the most interesting part of the process. To pay or not to pay, that was the question. I'd just finished uni and was now applying 0% of my further education to my career path with a good amount of debt. Well, the answer I found was exploring a bit of both.
I strongly recommend YouTube, Polycount, 80 Level and Discord communities as brilliant free resources. You'll find many industry artists also offer quality content through Gumroad and ArtStation for very reasonable prices (usually between £0-£20) considering their skills and years of experience. Individuals such as Daniel Thiger (pictured below), Josh Lynch and Jonas Ronnegard of some of my personal favourites for Substance Designer. A quick browse of the ArtStation storefront will clue you in more about what's available.

At the higher end of the scale, and aimed at intermediate artists, places such as Flipped Normals, Gnomon, CGMA, The Mentor Coalition, Learn Squared and Game Art Institute seem like worthy places to invest in premium online education.
Putting the university vs online education to one side, regardless of your background, these are great places to start and further your environment art experience.
5. Get up again!
Over the last eleven months, I've applied to many, many, many positions. I learned with each setback how to write tailored cover letters, how to condense my CV and how to avoid pet-peeves recruiters have when it comes to portfolios. And believe me, you'll need some Tubthumping in your life to keep you going through application rounds.
(NB: I'll be writing a dedicated article soon covering this topic but for now, Andy Dowley's "Why I might loathe your CV" and "JUNIORS, this is for you" are MUST reads!)
Four months after uni, I became more picky about which jobs I applied for. Living rent and responsibility-free, that didn't go down amazingly with the parents. "Three years of peace and quiet and now you come back with this" mocked my parents. "Graduate bum" I was nicknamed by the girlfriend. Fair enough I thought.
But deep down I knew I wanted to be an environment artist so it made no sense continuing to applying for QA or intern designer roles- the latter, no longer a door into the industry I had read. I had a strong suspicion that if I had got a job like these, I'd be in that role for, best-case-scenario, a whole year. It seemed I'd be breaking into the industry faster if I doubled-down and persisted with building my new portfolio. So that's what I did.
6. Addicted to Substances
By October 2018, I'd discovered Allegorithmic's Substance suite for authoring textures and materials. I kept seeing the acronym 'PBR' and soon realised it was the industry-standard texturing method. I bought the book on 'Physically Based Rendering' and began to understand what made materials look realistic and physically accurate. Wes McDermott's Substance Academy tutorials were brilliant.
I can only describe Substance Painter as the Photoshop for 3D models - quite fitting considering Adobe's recent acquisition of Algorithmic. After getting used to putting together material shaders in the Unreal Engine, the node-based setup in Substance Designer was pleasantly familiar. The first time I used them both they blew my mind. We weren't exposed to these techniques at uni.
My new art portfolio began to show I had some knowledge of environment art.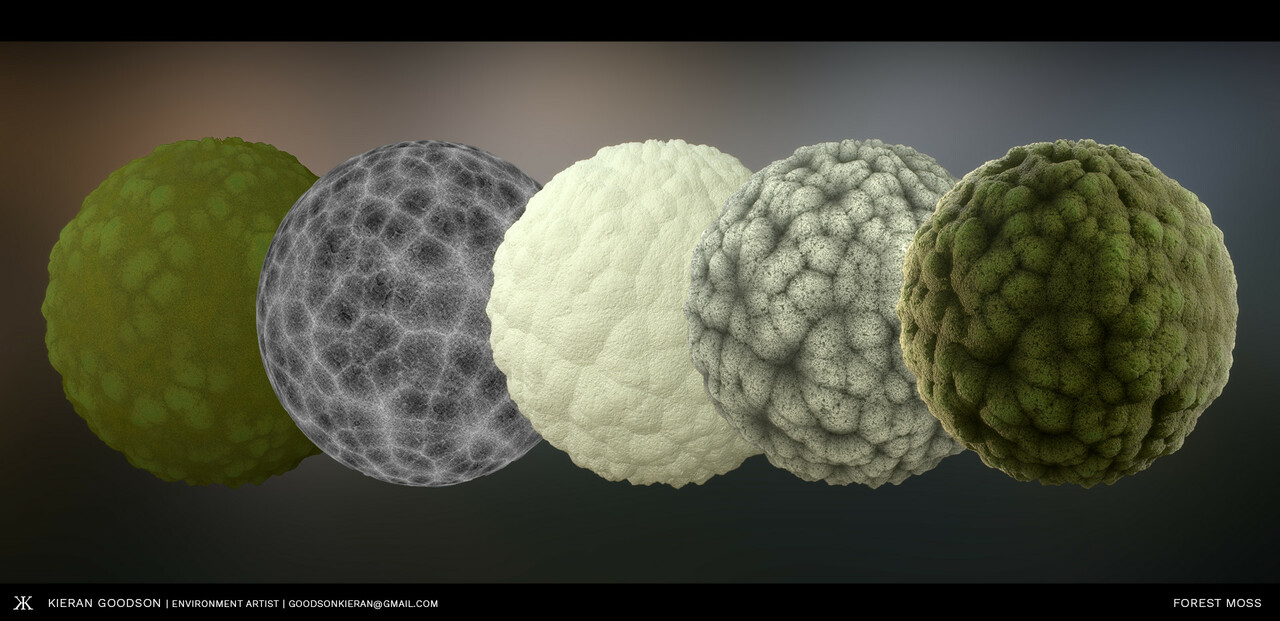 7. ArtStation
I'll preface this section by saying good to see you here on the platform.
Remember how I'd made myself a fancy website from #2? At the time it had a huge splash screen with hover animations and all sorts of bells and whistles. I made the decision to transfer my portfolio over to ArtStation for several reasons:
Loading times
There's nothing worse than a slow site. Art leads have a limited amount of time and will make quick decisions about your fitting for the role. By the time they've loaded your fancy portfolio, even if it's solid work, they're already frustrated. This isn't the mindset you want people to be in when viewing you, your work and your brand. ArtStation eradicates this issue provided image resolutions are reasonable.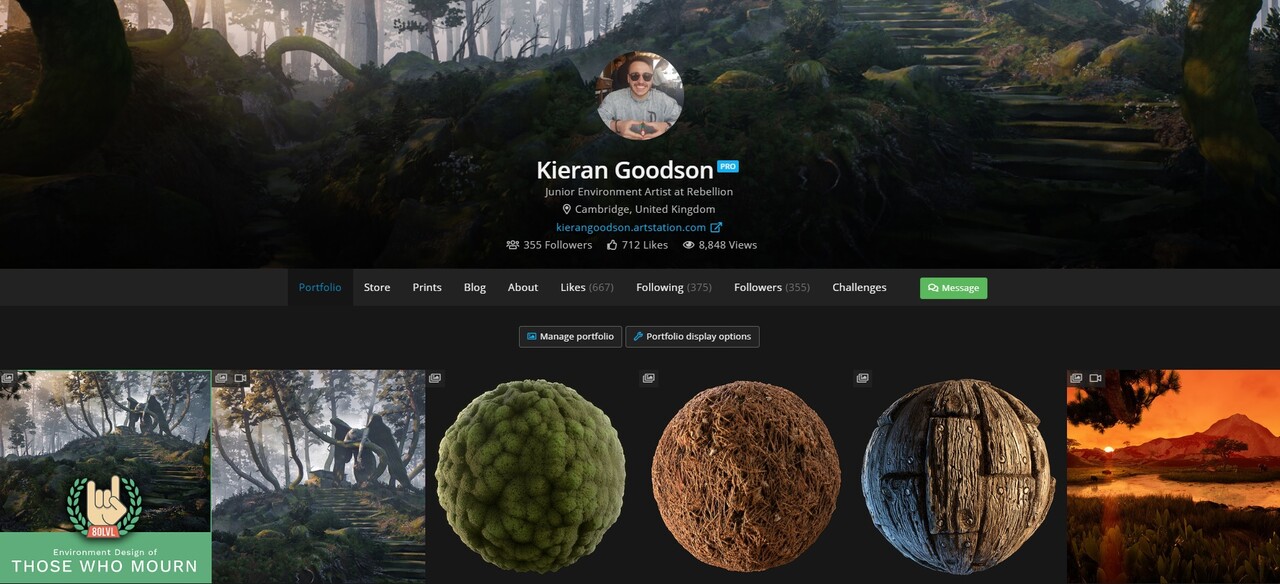 Simple and functional
ArtStation is clean and simple. You know when you click on a button, it'll link you to the right place. When building your own website, it's easy to get excited with eccentric design and forget about functionality. You don't want to accidentally lead decision-makers down the 404 road. Don't leave that to chance because it will be a dealbreaker.
Popular
The added bonus of having an ArtStation portfolio is that you have industry eyes on your work all the time. More eyes = more opportunity for you to be spotted. Familiarity is safety. Industry professionals know ArtStation inside and out so why take the market outside of its comfort zone if you can help it?
Tim Simpson discusses in further detail why your portfolio needs to be on ArtStation.
8. Dinusty
By November, YouTube was my best friend. With several more applications out the door and several more coming back as "this position has been filled", I once again decided my portfolio wasn't good enough yet.
I discovered a series of environment art portfolio reviews by Jeremy Estrelado, a Senior Environment Artist from Ubisoft Massive.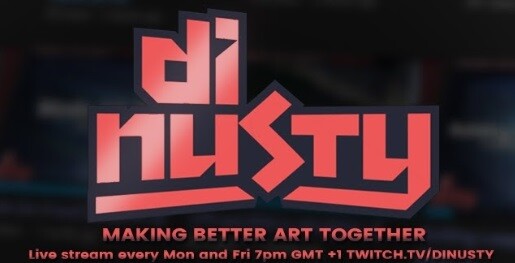 Getting insight into how a senior artist critiques artwork is invaluable. It's critical to understand the strengths and weaknesses of your work if you're to successfully market yourself to recruiters and studios.
I joined the Dinusty discord on a whim as I liked the videos he was putting out. I stayed because it felt like home.
The discord is a waterhole for industry environment artists, budding game art students and indie developers. Need critiques? Unparalleled quality and quantity quickly! Got a technical issue? No problem. Need a tutorial for something? There's a database and active thread for that. Alongside monthly challenges, a brilliant new podcast and Twitch streams twice a week, the community (and it does feel like a community) is something I wish I was a part of during uni. It's great to chat to the people behind the awesome work you see online.
November comes around and I hadn't yet combined the new skills. I hadn't leveraged the power of quality critiques either. I found an inspiring reference photo for a new environment and the rest was history. ( I won't go into vast amounts of detail as I did that here.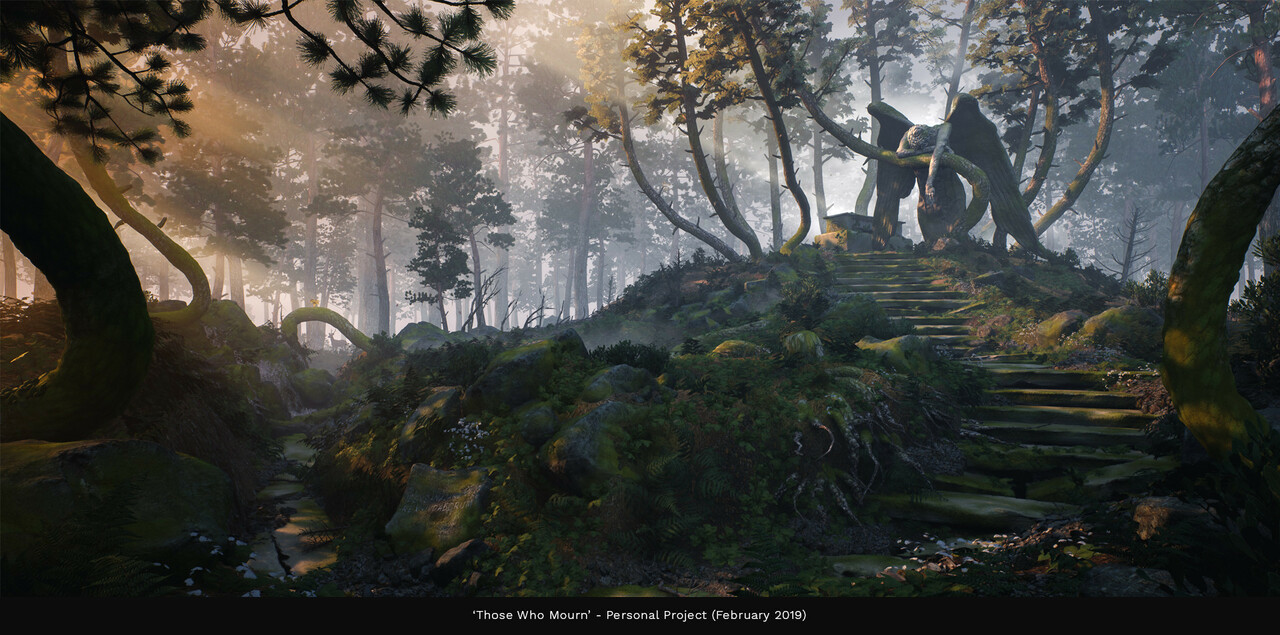 I picked up ZBrush, SpeedTree and Marvelous Designer along the way. They're brilliant pieces of software, each tailored to doing one thing incredibly well. My project required organic sculpting, foliage creation and clothing simulation so it made sense to take on the challenge of all three.
I picked up three new pieces of software and shook them until the things I needed from them fell out. I now have a richer technical skillset but I don't ever plan on knowing what all the buttons do.
It was an ambitious project that I nearly gave up on at points but I learned that it's important to take the extra time to finish and polish to industry quality. 'Those Who Mourn' was the sole project that demonstrated to potential employers that I had the core skills of an environment artist:
Fundamental modelling skills
Correct application of PBR materials
Demonstrable XP of a real-time engine
Understanding of composition, colour theory and shape language
Thoughtfulness for overall level design
Proficiency with lighting
The cliche of "quality over quantity" rings very true when it comes to portfolios.
In December 2018, I was fortunate enough to be emailed by Kirill Tokarev from 80 LEVEL.
He had seen my latest environment on Polycount where I'd asked forum users for feedback on a WIP screenshot. He said it looked solid and asked if I'd be interested in answering a few questions about it for an article. I was. I did.

I finished in February 2019 and took an entire week to write an extensive breakdown, taking care to show my process and understanding through gifs and paint-over screenshots. This was a golden opportunity to show the industry what I could do and what I was about. At the start of March, Kirill and I released my article and work on the same day. It made a bit of a splash and brought my work to the attention of thousands of industry eyes.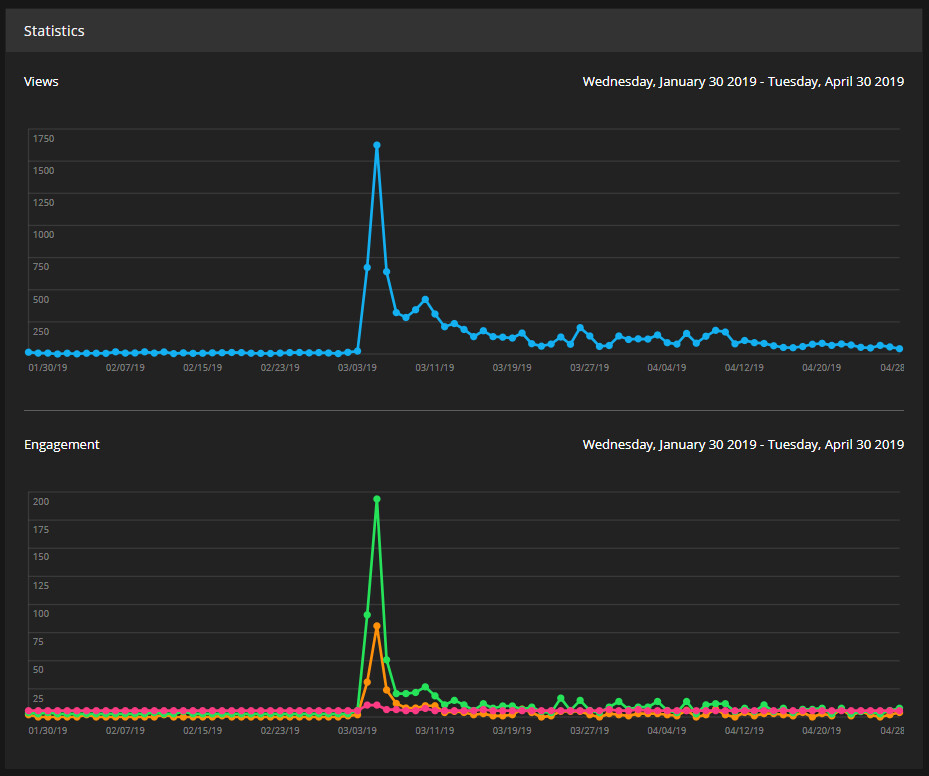 The feeling of being on the map felt good and it was encouraging to receive so many lovely comments from industry pros.
11. Personal projects. Round of applications. Rinse and repeat.
By March 2019, it had been ten months of on-off applications. Ten months of mostly radio silence; ten months of "this position has been filled" or "looking for someone with more experience". I'd had a phone interview with a tech company and had been contacted on Twitter to have an art test with a smaller studio but they'd both fallen through too.
After releasing 'Those Who Mourn', it was like a switch had been flicked.
In the first week of April, I had three in-studio interviews lined up on the Tuesday, Wednesday and Thursday at various studios across the country.
'Those Who Mourn' represents three months, three new pieces of software and three job interviews as a result
I'd had a Skype interview a couple weeks prior with one. This was a really nice induction into the casual interview style. It was great to finally meet face-to-face and see real studios in action. One of the leads said he discovered my work through my 80 LEVEL article and made the move to get me on-call. That comment was repeated throughout all three interviews which was very humbling.
By the end of the following week, I had two job offers and an art test on the table. I'd also been offered remote freelancing work on a couple of indie projects which was really cool. It was really nice to have options, especially after 11 months of nothingness. In the end, I selected the right studio for me.
I start my game dev debut as Junior Environment Artist at Rebellion Oxford in June. And so concludes my graduation saga. Thanks for reading.

-Kieran
---
A big shout out to Kieran for letting us share his amazing, and insightful journey here at The Rookies. Make sure to check out more of his work and future work at:
https://www.therookies.co/kierangoodson/