Inspiration
20 non-professional Substance Painter projects that will blow your mind
The Substance [https://www.substance3d.com] suite for texturing and materials authoring is the hottest software out there right now. If you are in games, films, architecture, or design, there's a Substance app that can help you bring your wildest ideas to life. Don't believe me? Check out this
Round of applause for our sponsors
The Substance suite for texturing and materials authoring is the hottest software out there right now. If you are in games, films, architecture, or design, there's a Substance app that can help you bring your wildest ideas to life.
Don't believe me? Check out this small sample of projects created by non-professional artists using Substance Painter that were submitted to the Rookie Awards 2019.
---
Kangrinboqe Warrior by Vinicius Mantovani Favero
Hey guys that's my final project for the Think Tank Mentorship with the amazing Gustavo Groppo ! Based on the concept from Yin Yuming. It was challenging to me getting out of my comfort zone and build a high quality char for feature films exploring such different materials. Hope you like it ! Cheers!
The Environments of Keltic Vermeersch by Keltic Vermeersch
In my entry I like to display my Environment work as well as the ability of creating other props such as the world of warcraft weapon. I hope you enjoy these pieces and give it a share!
Violeta: a Modeling & Surfacing reel by Juan Fer Bravo
This is my final project during my year at VFS in the 3D Animation & VFX program. Violeta tells the story of Ramon an old painter who lives in a small town in Mexico selling crafts and doing paintings , this project shows off my skills in modeling, surfacing and lighting.
MIRAI by Juan Erostique
MIRAI 100 years ahead in time, we can see the old garage of a mechanic where he keeps his old friend, a robot model T-LOW 91. The 4th WW Robots Agreement has been just broken, now robots and nuclear weaponry are allowed again. Robots will have to meet up for what the future may bring.
Environment modering reel_Tomoe Matsushima by TomoeMatsushima
This is my entry for the Rookie Awards 2019 Contest. I'm learning modeling and texturing to be an environment modeler. I hope to one day work in the Film or animation industry. This reel is my graduation work at Musashino Art University. Hope you enjoy it!
Hellwalker Huntress by Abraham Portilla
My first character demo reel. This was my final project during the 3D animation & VFX program at Vancouver Film School.
Circus in the swamp by Nixon Poon
A caravan travels the swamp to find their audiences.
Character Art by Juras Rodionovas
A collection of my personal work that I have made during the past year.
3D Generalist 2019 by Mehmet Tayfur Türkmenoğlu
23 years old innovative artist, experted in digital painting and 3D softwares with a strong traditional background . Can create visual stories by using numerous techniques to get results of higher quality and able to design a character, in all phases from sketch to final render
Sweet Dreams by YuanTing Chao
The story is about insomnia and takes place in a monster's world, where the inhabitants have a serious case of insomnia. Only the sleeping pills from the Sweet Dreams company works. The story based on a loop cycle, in which every link can affect each other. Visually the film has a vivid color tone with cute characters.
Guaranda: Gift to my Grandparents by Mani Salguero
My degree project was a gift to the most beautiful people in my life, my grandma Mamá Lupita and my grandpa Papá Guillermito. It is about how they met, and how their perseverance, led me today to exist with the best values they could teach me. With the greatest love in the world.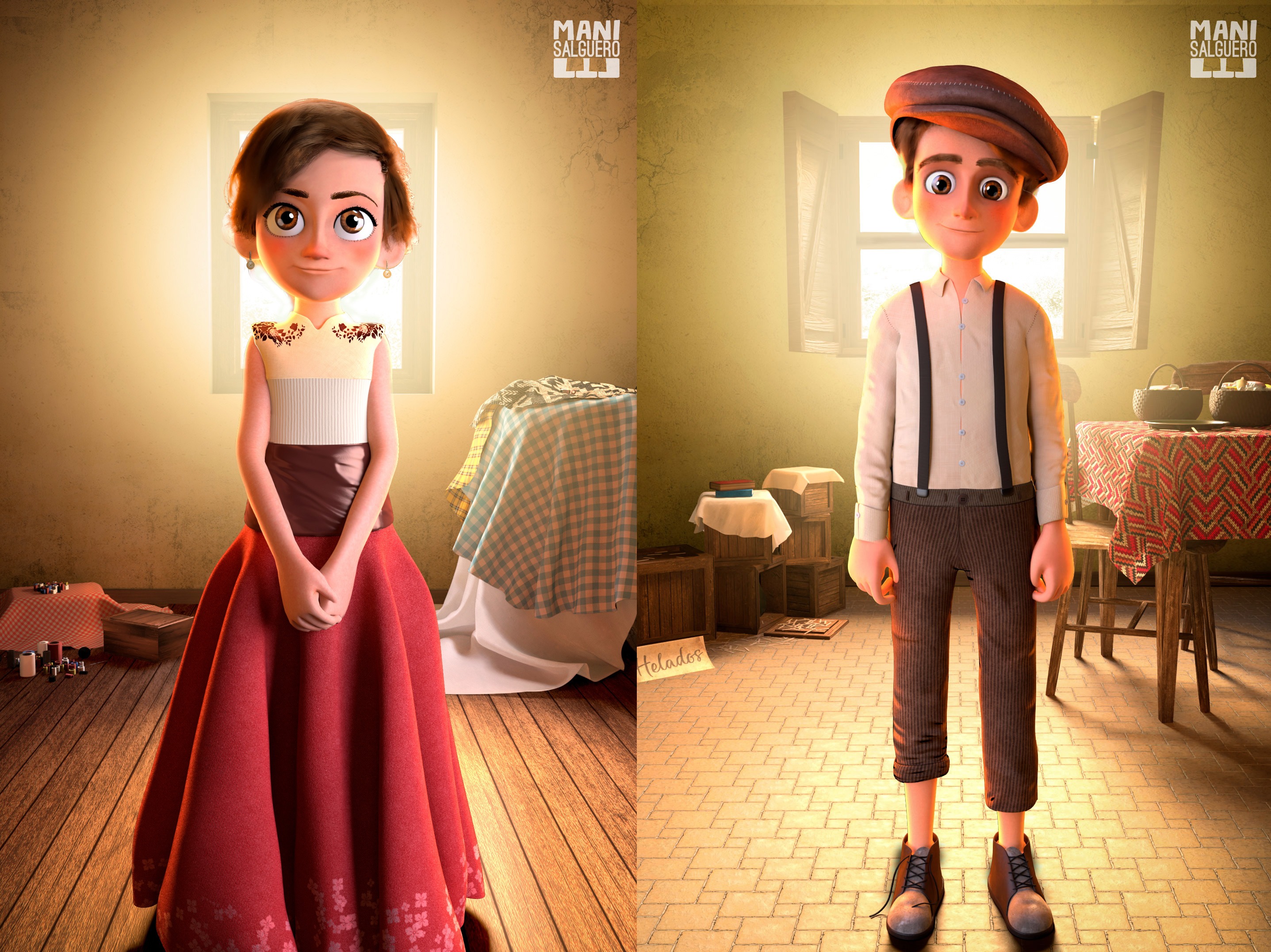 Spire by Jamie Callow
Spire is our second-year university game project produced over the course of a semester during our time at the University of Hertfordshire. The game, which is built entirely in Unreal Engine, follows the path of a Knight on his journey through a cold and harsh forest.
Jeremy Schaefer's 3D Animation Work by Jeremy Schaefer
This is a compilation of some of my animation work. Hope you all enjoy!
Elf Commander Onneisha - Real-Time Character by Julie Beliveau
This is my first ever fully completed real-time character! I joined up with Game Art Institute's August 2018 bootcamp where I first started really heavily learning about the asset creation pipeline for games. I work full time in Maritime Simulation and between work and my personal life I managed to complete Onneisha.
Cor Domus by Hugo Henriques Pereira
A Co-Op puzzle adventure game that takes the players through the steps of a newly formed relationship
Student Reel 2019 by Cédric Moens de Hase
Hi there ! I'm taking the Rookies as an opportunity to share my Demoreel to people that might have never seen it ! I hope you'll like it ! Cédric
We're All Mad Here by Andrea Savchenko
This piece is a re-imagined Alice in Wonderland 3D render based on the concept We're All Mad Here by Heather Theurer. The powerful storytelling and surrealist design of this piece spoke to me in that we're all crazy and weird in our own way, and we're happiest that way.
100% Substance Designer. No sculpt. No Model. by David Hartmann - Environment Artist
My first entry is the Apex Havoc energy rifle. This was created entirely in Substance Designer. No sculpts or modelling was used apart from a single plane. You will also find some of my favorite material experiments 100% created in Substance Designer, along with an Environment and a prop.
Character Reel by LUIS OMAR DA SILVA FILHO
This are some of my latest works.
Ormallon Fish by Andres Prados Muñoz
I decided try to create a marine monster for an aquatic circus in another planet. The Ormallon is a really intelligent animal who is able to perform spectacular smoke and lava shows thanks to his lava back. The mix of Lava, jumps and water is the key to have an unbeliable experience at the Ke465 planet circus.